Supply for Huperzine A Factory in Los Angeles
Short Description:
[Latin Name]Huperzia serratum [Source] Huperziceae whole herb from China [Appearance]Brown to white [Ingredient]Huperzine A [Specification]Huperzine A 1% – 5%, HPLC [Solubility] Soluble in chloroform, methanol, ethanol, slightly soluble in water [Particle size] 80 Mesh [Loss on drying] ≤5.0% [Heavy Metal] ≤10PPM [Pesticide residue] EC396-2005, USP 34, EP 8.0, FDA [Storage] Store in cool & dry area, keep away from the direct light and heat. [Shelf life] 24 Months [Package] Packed in ...
Product Detail
Product Tags
With this motto in mind, we have become one of the most technologically innovative, cost-efficient, and price-competitive manufacturers for Supply for Huperzine A Factory in Los Angeles, To learn more about what we can do for you, contact us at any time. We look forward to establishing good and long-term business relationships with you.
---
[Latin Name]Huperzia serratum
[Source] Huperziceae whole herb from China
[Appearance]Brown to white
[Ingredient]Huperzine A
[Specification]Huperzine A 1% – 5%, HPLC
[Solubility] Soluble in chloroform, methanol, ethanol, slightly soluble in water
[Particle size] 80 Mesh
[Loss on drying] ≤5.0%
[Heavy Metal] ≤10PPM
[Pesticide residue] EC396-2005, USP 34, EP 8.0, FDA
[Storage] Store in cool & dry area, keep away from the direct light and heat.
[Shelf life] 24 Months
[Package] Packed in paper-drums and two plastic-bags inside.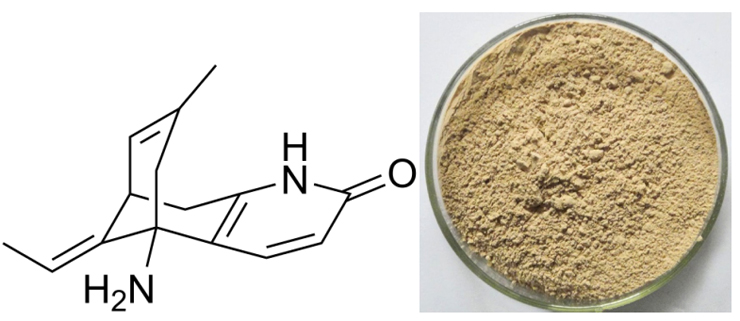 [What is Huperzine A]
Huperzia is a type of moss that grows in China. It is related to club mosses (the Lycopodiaceae family) and is known to some botanists as Lycopodium serratum . The whole prepared moss was used traditionally. Modern herbal preparations use only the isolated alkaloid known as huperzine A. Huperzine A is an alkaloid found in huperzia that has been reported to prevent the breakdown of acetylcholine, an important substance needed by the nervous system to transmit information from cell to cell. Animal research has suggested that huperzine A's ability to preserve acetylcholine may be greater than that of some prescription drugs. Loss of acetylcholine function is a primary feature of several disorders of brain function, including Alzheimer's disease . Huperzine A may also have a protective effect on brain tissue, further increasing its theoretical potential for helping reduce symptoms of some brain disorders.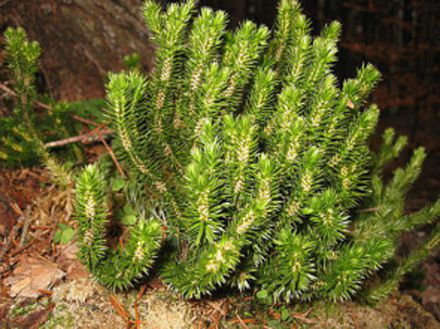 [Function] Used in alternative medicine, huperzine A has been found to act as a cholinesterase inhibitor, a type of medicine used to prevent the breakdown of acetylcholine (a chemical essential to learning and memory).
Not only used as a treatment for Alzheimer's disease, huperzine A is also said to enhance learning and memory and to protect against age-related cognitive decline.
In addition, huperzine A is sometimes used to boost energy, increase alertness, and aid in the treatment of myasthenia gravis (an autoimmune disorder that affects the muscles).
Previous:
Yohimbe bark extract
---


Lloyd Wright, author of the just released Hepatitis C: A Do-It Yourself Guide for Health, talking about Blueberry Extract, an effective agent for preventing or slowing down the replication of the Hepatitis C Virus. Hepatitis C virus (HCV) infection is a major cause of chronic liver disease such as chronic hepatitis, cirrhosis, and hepatocellular carcinoma. While searching for new natural anti-HCV agents in agricultural products, we found a potent inhibitor of HCV RNA expression in extracts of blueberry leaves when examined in an HCV subgenomic replicon cell culture system.
This activity was observed in a methanol extract fraction of blueberry leaves and was purified by repeated fractionations in reversed-phase high-performance liquid chromatography. The final purified fraction showed a 63-fold increase in specific activity compared with the initial methanol extracts and was composed only of carbon, hydrogen, and oxygen. Liquid chromatography/mass-ion trap-time of flight analysis and butanol-HCl hydrolysis analysis of the purified fraction revealed that the blueberry leaf-derived inhibitor was proanthocyanidin.
Furthermore, structural analysis using acid thiolysis indicated that the mean degree of polymerization of the purified proanthocyanidin was 7.7, consisting predominantly of epicatechin. Proanthocyanidin with a polymerization degree of 8 to 9 showed the greatest potency at inhibiting the expression of subgenomic HCV RNA. Purified proanthocyanidin showed dose-dependent inhibition of expression of the neomycin-resistant gene and the NS-3 protein gene in the HCV subgenome in replicon cells.
While characterizing the mechanism by which proanthocyanidin inhibited HCV subgenome expression, we found that heterogeneous nuclear ribonucleoprotein A2/B1 showed affinity to blueberry leaf-derived proanthocyanidin and was indispensable for HCV subgenome expression in replicon cells. These data suggest that proanthocyanidin isolated from blueberry leaves may have potential usefulness as an anti-HCV compound by inhibiting viral replication.
Wright knows about the rigors of life with Hepatitis C, and he knows all about wandering in the dark when doctors have no answers. Wright describes the new book, which follows his international best seller Triumph Over Hepatitis C, as "having all the primary information that everyone infected with Hepatitis C must know about. The 200-million people worldwide, about 5 million of them American, can benefit tremendously from Lloyds personal experience with over 200.000 clients who have hep c, most of them having used interferon and had it fail.
Lloyd Wright's Hepatitis C book builds on the years of work already undertaken and brings valuable new information about ways to combat the destructive virus, Hepatitis C. Hepatitis C: A Do-It Yourself Guide for Health begins by chronicling Wright's own personal horror story after a 1979 accident brought Hepatitis into his life through a hospital blood transfusion. Following 15 years of pain, suffering and uncertainty he was accidently diagnosed and basically told to get his affairs in order. He refused to accept the fate prescribed to him by doctors and battled against the odds, and he prevailed. To those facing Hep C, Lloyd Wright offers these words of wisdom: "You can, and must, take responsibility for your health. If you are suffering from hepatitis C, you can reclaim your health, get out of bed, get off the couch, forget about disability, and go back to work."
A Time of Enlightenment (see Table of Contents below), Wright gives the exact supplement regimen followed in what he calls "my own recovery from Hepatitis C." The supplements, vitamins and herbs taken were "a treatment strategy" that he lays out in Hepatitis C: A Do-It Yourself Guide for Health. A few of the items used were NatCell Thymus, Non-Pasteurized Aloe and Blueberry leaf extract.
One of the new items, Naringenin currently offered by Wright is described in the book as a "powerful flavonoid" found in grapefruit that "shows promise in helping to combat hepatitis C. Naringenin is currently being used for a Phase 1 trial at UCLA. The hepatitis C virus is bound to a very low intensity lipo-protein (one of the so-called "bad" cholesterols), when it is secreted from liver cells, according to a February 4, 2007, article published in Science Daily. Researchers at the Massachusetts General Hospital Center for Engineering in Medicine reported that the viral secretion required to pass infection to other cells can be blocked by the common flavonoid Naringenin."
Lloyd Wright in Chapter Two, Hepatitis and Interferon, describes the nature of Hepatitis and the various forms in which it exists, meaning Hepatitis A, B and C, before offering this warning at the end of the section: "If you have Hepatitis C, your medical doctor will prescribe interferon. Before you proceed, read this book."
For more about Lloyd Wright go to http://alternativemedicinesolution.com


http://davesmith.ludaxx.com/
http://www.davegsmith.com
Why it Works for
F21 is an All Natural Sugar Blocker that helps limit your blood sugar absorption. It consists of different compounds found to have various health benefits, such as L-Arabinose, Coriolus Versicolor Polysacchride, Konjac-Mannan, Magnesium Stearate, Mint flavor: Menthol and Natural Colors. F21 not only does it help promote weight loss, (PSK) boosts your immune system response. In fact, for every gram of F21, you can block up to 20 grams of sugar (sucrose). The formula not only helps promote weight loss, it benefits the digestive system by allowing the blocked sucrose to support beneficial probiotic bacteria while the polysaccharide (PSK) boosts your immune system response.
But how does this formula break down the sugar in our bodies? There are basically three steps:
STEP 1
Sugar (sucrose) enters the body as a whole molecule.
STEP 2
The enzyme "sucrose" separates the sucrose molecule into two individual sugar molecules, Glucose and Fructose, which then enter the blood stream to be used. F21 inhibits sucrose from separating the sucrose molecule.
STEP 3
Instead of the sugars entering the blood stream, the whole sucrose molecule and F21 remain in the digestive tract and become prebiotics.
The main ingredient in F21 is L-Arabinose, which helps prevent sugar (sucrose) from being metabolized in the body. It also helps to satisfy any cravings for sugar. Another ingredient, Polysaccharide (PSK), is an extremely powerful antioxidant and immune-regulatory defender. It's well researched anti-tumor, anti-infection and anti-inflammation effects help repair damaged cells and support the immune system.
Konjac-Mannan is a natural appetite suppressant. It acts as a trigger signaling your stomach to feel a little more satisfied and can help to reduce hunger cravings.
Prebiotics are indigestible fibers that are food for the probiotics. Both F21 and the whole sucrose molecule remain in the large intestine and become food for probiotics.
Menthol is an organic compound made synthetically or obtained from cornmint, peppermint or other mint oils. Menthol has local anesthetic and counterirritant qualities, and it is widely used to relieve minor throat irritation. It is known to be a powerfully medicinal compound linked to several potential health benefits. Peppermint oil, a natural source of menthol, has been investigated as a treatment for several diseases and conditions.
Magnesium stearate, also called octadecanoic acid, is manufactured from both animal and vegetable oils and this is the reason why some nutritional supplements specify that the magnesium stearate used is sourced from vegetables.
Send your message to us: